Well This "Project Process" thread seems to be a keeping it on the road thread. Every-time I do something it seems to upset or break something else
<Rant hat on>
Replaced the rocker cover gaskets last week and when I got the fan belt off the water pump I noticed that there was a lot of play in the pulley. This I presumed was due to the fan belt being too tight so when I reassembled it I left it a bit looser. The pump was not leaking at all before I went at it. So Valve clearances adjusted and fan belt left a bit looser I set off for a quick spin on Saturday evening. Now for the last few months iv been running cold so as a Quick fix I covered the vent under the bumper to restrict air flow.
So Driving along on Saturday the temperature gauge goes up to 90 then down to 70 then back up to to about 85. After about 10 miles I notice that the gauge has gradually increased to above 90 so I stop and remove the panel that I placed over the air vent as I presumed that the Air temperature is now warm enough to keep my engine at normal operating temperature. So just down the road I see that the temperature is still rising
. I pull in and pop the hood only to see that the Otter switch has been blown out of its socket.
Ohh well that explains it. There is only one tool that I really needed and that was 1/2" spanner to get the spare wheel tray off, but it seems with my haste to leave the house I brought ZERO tools with me! not even a screwdriver or a vice grips
. I knocked on the door of the house that I stopped at and thankfully the man of the house has some tools and 10L of water
.
So soon after I was back on the road but I still was running warm. I have never gotten air locked before but when filling the car I always face the nose uphill. When I filled the rad outside that mans house it was facing downhill so I guess it must have been air locked. Got her home anyway and parked up, It was dark at this stage so I just topped up the rad on the driveway while almost scalding myself under the fountain of water that came out when I opened the rad cap
.
In the morning I popped the hood and checked the coolant lever. MM looks empty. 5 liters later it filled up and then finally I noticed the drip drip drip from the pump
.
Wiggling the pulley left a steady trickle out. This is a pity because its a relatively new pump. I would say its done about 15K miles. Is that all they last? or was it too tight?
So I'm thinking that because I left it loose on the fan belt it was able to move about a lot more and this ability of extra movement casued the seals to fail which may have lasted a lot longer if it was in the one position under tension from the fan belt.
Ohh well new pump should arrive tomorrow. The only thing I'm thankful for is that its a 15-20 min job to replace unlike some modern Yokes that take hours to chage and 100's €.
In other news
Work continues in preparation for the webasto replacement. A job that's been on the TO DO list since Day ONE! Im really put off doing it because once I start it, IT will mean the car is off the road and i want to replace the Vinyl Roof at the same time so its a big job for me. Trying to get as all the prep done before I attack it.
I got a second hand one on eBay some time back and I'm slowly trying to make good again. Most of the metal in mine are pretty rotten but this one although has a bit of surface rust is solid.
I started by stripping it down - Surprising how many little bits Its made up out of.
Nice shiny metal underneath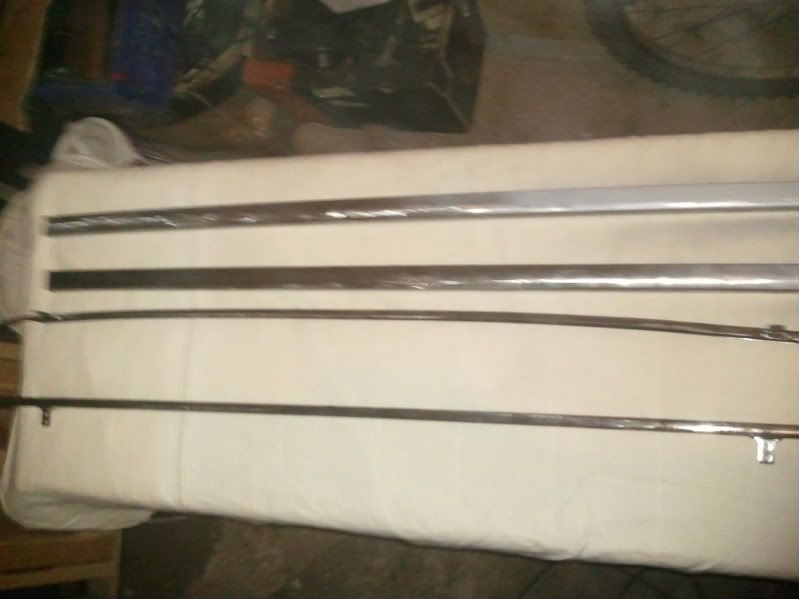 Bit of primer
- the sheet was a big mistake. All the fluff came off it and stuck to the paint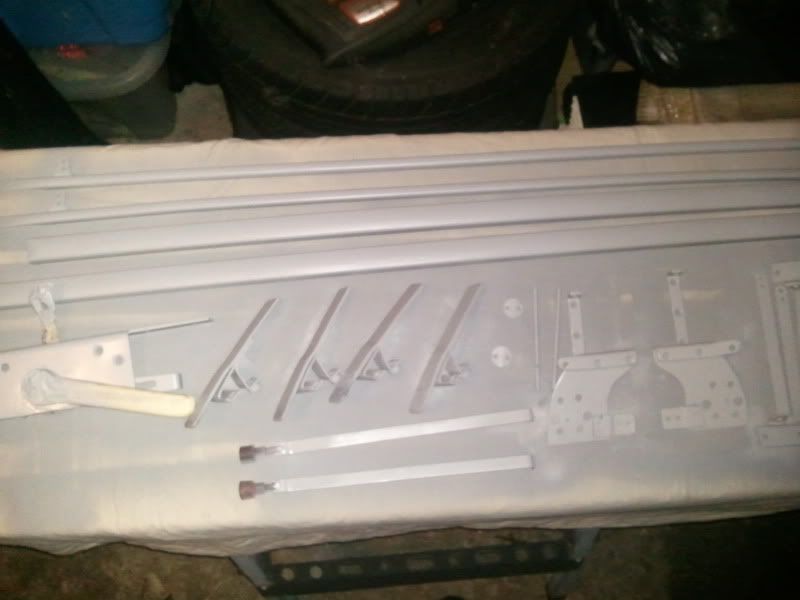 Painting in the cold give a very DULL BAD finish
But now that the weather has warmed up a bit
shiny shiny. My old Ironing board makes a great spray table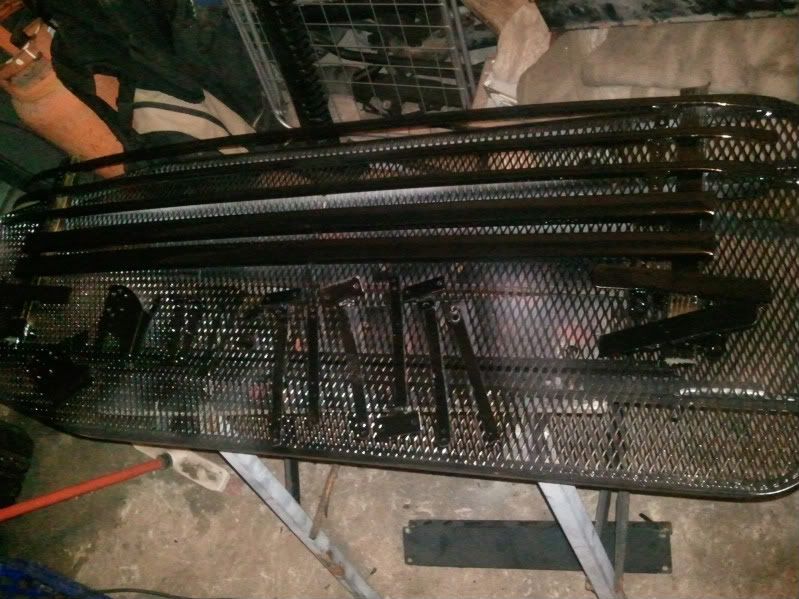 Next step will be to prepare the wooden frame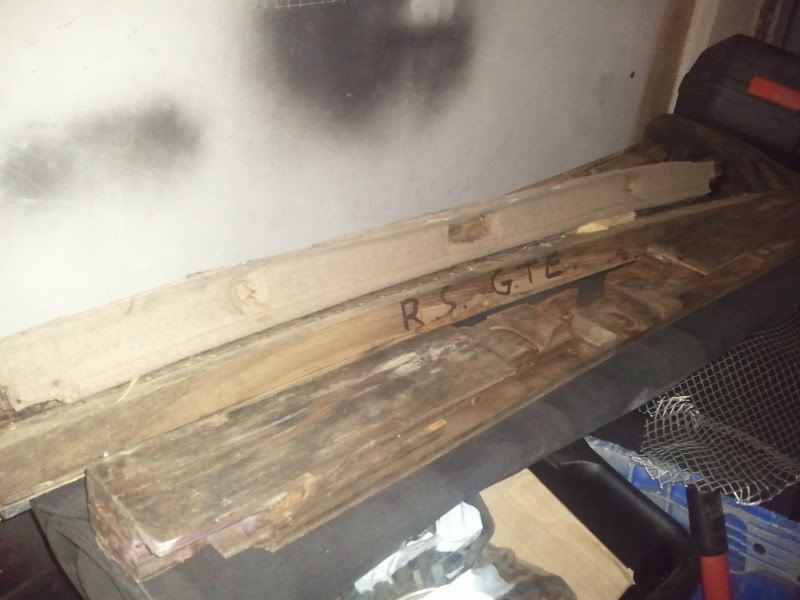 The wood I "OK" but I Have a friend that says he can replicate it. Will probably get it made out of some hardwood rather than this marine ply stuff.