Over the winter I did the usual thorough check of everything as our historic season was starting earlier in 2020 with the Ross Traders having moved to 1st February 2020
It was also an afternoon / evening event and as Carrie and I had never done anything in the Scimitar after dark, we entered Tavern Motor Club's New Year 12 car rally on Friday 10th January
During the day, I took the car for an MOT and the friendly tester adjusted all 4 headlights to the correct angle
I had also fitted some part worn Dunlop winter tyres as they should be better on the roads than my usual forest tyres
The rally started and finished at Tavern's usual meeting place, the Royal British Legion in Dundry, and the route was 45 miles around the roads south of Bristol, including the maze of lanes around Nempnett Thrubwell. Marked maps were given out and we set off just after 8pm along with the other 9 competitors.
The organisers are both good Welsh Road Rally navigators and are used to the speed of the top Welsh competitors, so the route had a lot of short sections and marshals to slow everyone down.
As it turned out, it made it very difficult to keep on time and we were dropping a minute or 2 on most sections and were almost over the time limit by the halfway point. Luckily there was a time recovery section here, and the 2nd half had an extended time limit so we pushed on and got to the finish with a few minutes to spare.
At the finish, the results were going to take a while because everyone had dropped a lot of time, and there were a lot of controls to check, so we headed home.
The event had gone well for us, a couple of hesitations but no wrong turns and it highlighted that there was not enough lighting inside the car for Carrie to do anything apart from follow the map, so a bit of work to do before the Ross Traders.
The next morning, we received the results from the organisers and were surprised to be 1st Overall by a minute
We found out later that a lot of crews had dropped time on one section where the marshals was giving the time the cars should have arrived, not the time when the cars actually arrived!
Carrie spotted the wrong time while we were still in the control and got the marshal to change it, so we benefited from this!
Over the following few weeks, I fitted a Brantz Rally Timer - this has a clock and a stopwatch with nice bright red numbers, similar to the trip meter, as well as replacing the cigarette lighter with one that actually worked, adding a strip of LED lights stuck to the bottom of the dashboard above the glove box door, with a piece of card above it to stop any glare on the windscreen, and finally replaced the old Avanti map light with another LED light above the passenger door - this lights up the clipboard so the marshals can see where to sign, making their job easier and more importantly quicker! The central auxiliary switch panel had 2 more switches added and I have a spare feed for another light if required.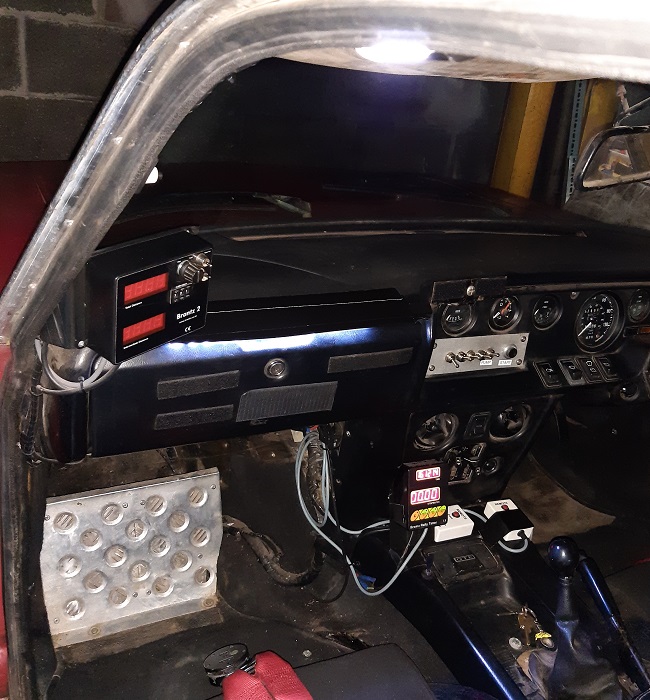 On the mechanical side, I just adjusted the rear brakes and tightened and greased the handbrake cables, so all ready for the Ross Traders