Iv had my Scimitar for the last 6 months and have been meaning to start a Project thread so finally here it is.
So I'll start at the beginning. I was looking for a classic car to buy at the start of last year. I had it down to a shortlist of TR7's, Rover P6, MGB and BWM 2002 . My budget was quite low so getting one that didn't need a load of welding was quite challenging. Then I came across a SE6 advertised on the web in Ireland. I had never heard or seen one before this. Did a bit of research and after finding this site and others like sporting-reliants with lots of pics and stories I decided that I gotta have one. After hearing Dave Pools exhaust note on
youtube
gave me an extra push to start my search for a good one.
The main reasons for choosing scimitar was the fiberglass body. I'm not a welder so this was important for me. Also nice big engine - road tax and insurance would be pretty much the same no matter what classic I got so the bigger the better really. Also the hi spec of the SE6 really got me going unlike a rusty MG.
So searched websites daily to find one within my budget and which was in a roadworthy condition. Found a few and had my heart set on a brown and cream one "JAW978V" but someone on this forum got there before I could fly over and take a look. So the search continued and finally a nice black one came on on eBay.
It was exactly what I was looking for with all the nice bits - leccy windows, power steering, webasto, leather seats. The pics were small in the add so couldn't get a good look at it before the auction ended and the seller wouldn't send me any more, so I took a chance and after a few drinks on my birthday I waited patiently to the end of the auction to bid.
Well won it anyway and booked my flight for the next week. At this stage I had never actually seen a Scimitar other than pictures. Early flight to London and the train to Oxford where I met the seller at the train station.
I was presently surprised
. Car looked good and took it for a drive back to the sellers house. Everything seemed OK, plenty power in the engine, brakes were good, lights all worked and recent MOT. So had a good look around the car, checked the service history, filled out all the paper work, handed over a wad of cash and headed for the ferry in Fishguard.
The Drive over was strange - the radio didn't work but I didn't mind. Every creak and noise was a bit of a worry but it powered on all the way without any problems. Well except for the headlights not working for a few seconds which was a bit of a fright but pressing the big red switch near the gearstick that lit up sorted it out. (still don't know what that really does).
Onto the ferry and got a bit of kip on a bench. Woke up in Rosslare at 6 in the morning. Car started cold so I was happy with that. Had another 3 hours to drive home. It was great to get the power down
. I was a bit scared to push it in the UK in case I broke something but now that I was near home I could open her up a bit. It was great fun overtaking spanky new cars along the road and the noise was quite pleasing.
Landed home finally. The brother called over and we started to give it a good clean. Took a few hours but here it is on its first day "home".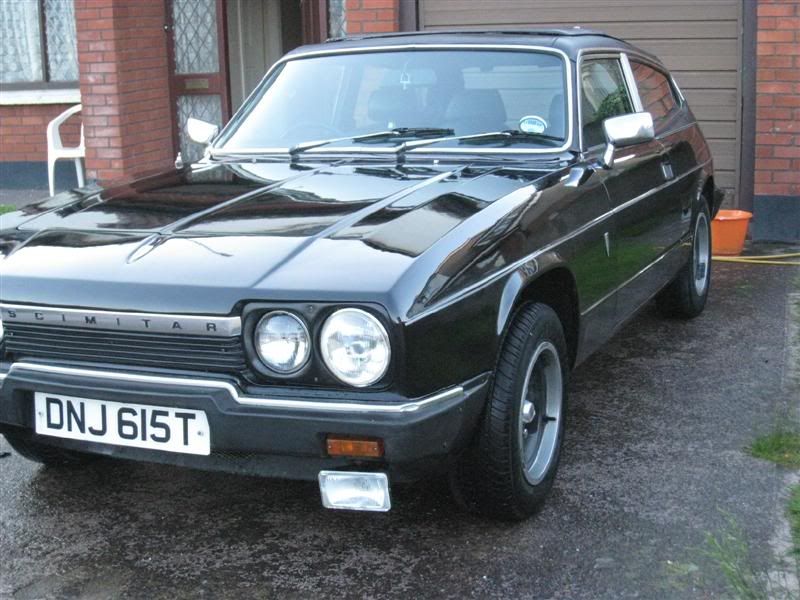 More to Come
Jobs Done :
Cooling system
Fix Leaking Fuel
Repair Rear Seat
Front Suspension and Steering Rack
Replace the Fuse box
Fit Semiconductor Voltage Regulator
Add USB Power
Replace Exhaust
Fit Amp and New Speakers
Fit New Shocks and Springs
Install Remote Central Locking Kit.
To Do
Fix water leak at rear of car (in progress)
Fix water leak in passenger footwell (in progress)
Replace rear wiper motor(in progress - need to sort out the park switch)
Paint Steering Wheel
Re-rivet foot panel under door
Fit new Carpet
Replace Webasto Wooden Frame.
Replace Nasty cover under bonnet with shiny heat shield.
Replace headlining with Vinyl/leatherette
Make panel to take 6*9's in the boot.
Fit SS rear wiper park cover?? maybe.
Fix side Window Drain tubes.
Paint Bumpers front and back.