Moderators: scimjim, Roger Pennington, philhoward, Lukeyboy46, erikscimitardemon
RSSOC Member
Posts: 15399
Joined: Tue Aug 22, 2006 5:13 pm
Location: Shrewsbury, Shropshire
Contact:
Ok, so ive done nothing much on the car for over 2 months--deeply ashamed! Mostly work related, pushing hard in uncertain times and results have been great so we are really busy again
lack of motivation to pkay on the car was combo or tiredness, being lazy and genrally just couldnt be ar5ed
Having been throughly shamed by Ben Gs Jag work, Darryls SS1 Carbonator progress, BCs Coupe GRP work, and some nudges from Bryan C, Nick K and Phil A, i finally made a physical restart today ( buying lots more wheels, turbo, injectors, and nic-nacs doesnt count...).
Gearbox rebuild started based on Ben Gs recent research and work.
Worn reverse idler
Nice mint one
Old vs new
Got to use my trusty hydraulic puller and the Ugga Dugga gun
Racing is life, everything before and after, is just waiting--Steve McQueen
6 time Class Champ, 2006 & 2014 SSSC Champion
RIP Batmobile, await the Rise of Dark Knight 8)
Sabre 'Light Sabre' 360hp!!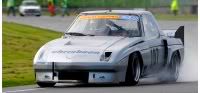 ---
CNHSS1