Moderators: scimjim, Roger Pennington, philhoward, Lukeyboy46, erikscimitardemon
RSSOC Member
Posts: 15397
Joined: Tue Aug 22, 2006 5:13 pm
Location: Shrewsbury, Shropshire
Contact:
I got pulled ref Batmobile WG, after 18 months, at Loton. A delegation of scrutes wanted to know what it was. Someone, probably a marshal had spotted the soot marks on the door, and asked them to investigate. There was/is a reg that said no exh shall exit before halfway point on car. A few minutes of haggling and they were happy enough. Whilst it is an exhaust technically, its only open at full boost and as i pointed out, turbos cant produce full boost without load so effectively it wasnt an exhaust other than on Cedar straight! so the danger o life and limb by a side exit exit 1.5" tibe running parallel to panels approx 10" in front of the huuuge real exhaust which also exits through the door, but at rights angles, shooting directly at peoples ankles
Battys was neatly hidden in the arch flare, so couldnt be seen or touched.
Many turbo cars run similar, but exit within engine bay
or under the car (can think of half a dozen well known cars off top of my head...) so scrutes were happy mine wasnt a problem
Never did show me the reg either...
Racing is life, everything before and after, is just waiting--Steve McQueen
6 time Class Champ, 2006 & 2014 SSSC Champion
RIP Batmobile, await the Rise of Dark Knight 8)
Sabre 'Light Sabre' 360hp!!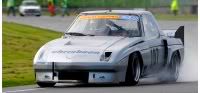 ---
CNHSS1