Ok, here we go, I've thought about doing a project thread for a while and by popular demand...well 3 or 4 people
here it is...
So be gentle as I'm a project thread virgin
Having built my Orange SE5 sprint car in 2006, I then converted it into to a race car for the 2008 season and competed with it for a couple of years.. The car did a fair amount of giant killing but the top of the podium was a bit too much of an ask for it... After being mugged by V8's down the straights, and with a heavy heart I sold the GTE and hatched a plan to build a TVR Tuscan V8, I built the car in around 8 months and the wins came....but I never felt as connected with it as the GTE, and I worried too much about damaging it with the values going thru the roof!! Think I might be a bit of a Scimitar man too??
So it was sold for a healthy profit and then the search for a replacement began....and promptly ended when this appeared on the forum..
A quick phone call and a few emails later I was on my way from Huddersfield to Bromley to collect one of my favorite Scims ever, Jaki and Tony Heaths ex sprint car.. I saw the car on a Sabre rally in Kent in 2003 and I'd wanted it ever since, so it seemed like it was meant to be!?
I got it off the trailer and first job was to wash it and remove the stickers which were not really to my taste...hmm, this brought most of the paint off underneath..not a great start, but still happy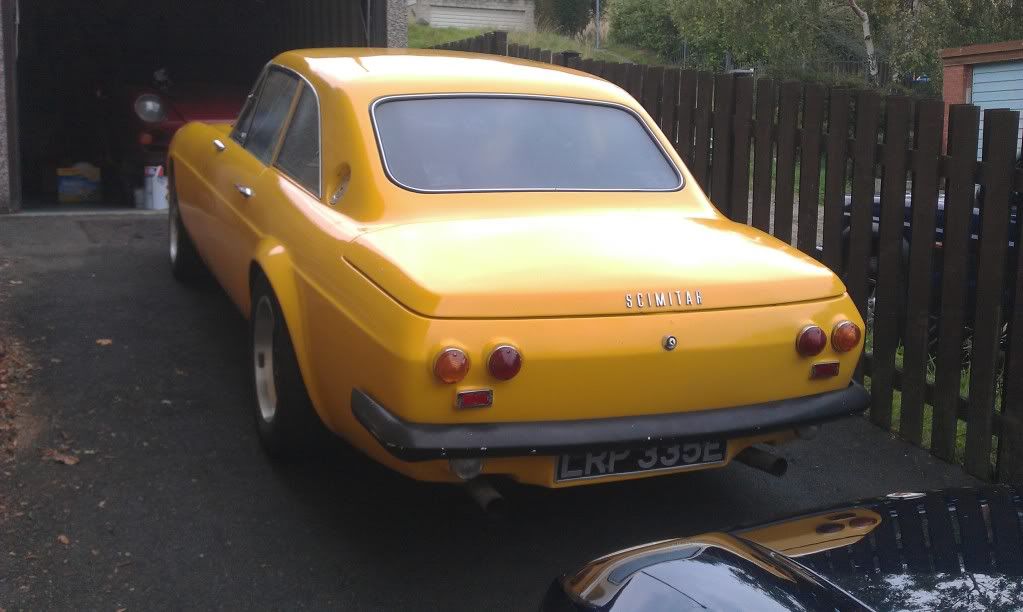 So it needs a respray then, but that's not the end of the world as I need to change the rear arches as my race series won't allow them, which is a shame because I love them..
So the plan is to refresh the car, extend the half cage and change the arches, easy