Moderators: scimjim, Lukeyboy46, erikscimitardemon, Roger Pennington, philhoward
Posts: 15290
Joined: Tue Aug 22, 2006 5:13 pm
Location: Shrewsbury, Shropshire
Has thanked: 600 times
Been thanked: 520 times
Contact:
I'm not, itll be done when it's done. I was chatting with Brian I my garage the other night and it sort of became clear I want the car to be right, or at least the issues and compromises sorted with it before it gets used properly. It has loads of power but the handling is lacking, the weights wrong, the wiring needs ripping out and doing again etc and my current interest, the front end, re-doing, then I'd be happier
Racing is life, everything before and after, is just waiting--Steve McQueen
6 time Class Champ, 2006 & 2014 SSSC Champion
RIP Batmobile, await the Rise of Dark Knight 8)
Sabre 'Light Sabre' 360hp!!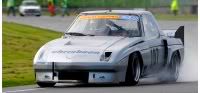 ---
CNHSS1