Moderators: scimjim, philhoward, erikscimitardemon, Roger Pennington, Lukeyboy46, nickkeyser
RSSOC Member
Posts: 13942
Joined: Tue Aug 22, 2006 5:13 pm
Location: Shrewsbury, Shropshire
Has thanked: 237 times
Been thanked: 218 times
Contact:
scimitarcars.org.uk wrote:I can't wait to see you out in that Craig. That's a lot of horses per tonne

I assume its going on full slicks, and may go on a mild diet to remove some of the road going luxuries.

Let me know if you fancy swapping that crappy emerald for my Horesham S2 chip. I'll do you a good deal.................
Batty was 352bhp/tonne iirc so will be about the same im guessing.
No, will run as is, I want a car to use on the road and do the odd event in, if I start fitting slicks etc etc, it needs springs, dampers, blah blah blah, it becomes the project that I don't want.
If its undrivable (which I don't think it will be) then I will revisit tyres, but its for a bit of fun not to win, that's the new builds job
it has switchable maps, so easy to run a soft map and lop 100hp off, if its hard work
probably gonna do the odd trackday with Claire in it (shes looking forward to it as sprintings not really her bag, but like test days) and have a charity run and summat else planned for it, so don't want to bastardise it. Its a credit to Stew that its so mild mannered 90% of the time, which is what appeals. That and 360hp of course
as ive said before, theres little point in going aftermarket ecu over live mapping the stock DET ecu, Stew had Emeralds long before me so he had one kicking around anyway.
Racing is life, everything before and after, is just waiting--Steve McQueen
6 time Class Champ, 2006 & 2014 SSSC Champion
RIP Batmobile, await the Rise of Dark Knight 8)
Sabre 'Light Sabre' 360hp!!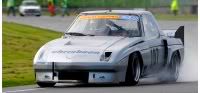 ---
CNHSS1