Moderators: scimjim, Lukeyboy46, erikscimitardemon, Roger Pennington, philhoward, nickkeyser
Posts: 14427
Joined: Tue Aug 22, 2006 5:13 pm
Location: Shrewsbury, Shropshire
Has thanked: 386 times
Been thanked: 322 times
Contact:
The choice to run was with the competitors not the organising club, there shouldn't be any recourse in my view. All were prepared to run the day before and make the journey and pay hotel & travelling expenses, and all to my knowledge ran in the given conditions, why would you look for a refund? I'm sorry but this isn't the organising clubs fault so why should they refund or discount subsequent entries? Take it on the chin and move on in my view
Motorsport is dangerous and crashes happen, thats the truth of it. If the risk is above what you are happy to take, leave it on the trailer
If we start pursuing clubs for refunds or asking CM for same it's a slippery slope in my view, but hey i wasnt there so feel free to ignore me
Racing is life, everything before and after, is just waiting--Steve McQueen
6 time Class Champ, 2006 & 2014 SSSC Champion
RIP Batmobile, await the Rise of Dark Knight 8)
Sabre 'Light Sabre' 360hp!!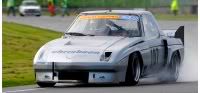 ---
CNHSS1