Moderators: scimjim, philhoward, erikscimitardemon, Roger Pennington, Lukeyboy46, nickkeyser
RSSOC Member
Posts: 13889
Joined: Tue Aug 22, 2006 5:13 pm
Location: Shrewsbury, Shropshire
Has thanked: 227 times
Been thanked: 210 times
Contact:
I was shocked when Trevor said his tyres were 5 years old, no bloody wonder he wasnt troubling Josh! Gotta be 1.5-2secs easy on fresh rubber on Rocket and maybe .75s on yours Corky given the less power but 'only' 2yr old rubber. The Oakes are smart and have at least one new set a season, pretty much essential for a proper campaign imho.
Your Sabre looms very well sorted for a road car though Steve, be mega on the road or track
Racing is life, everything before and after, is just waiting--Steve McQueen
6 time Class Champ, 2006 & 2014 SSSC Champion
RIP Batmobile, await the Rise of Dark Knight 8)
Sabre 'Light Sabre' 360hp!!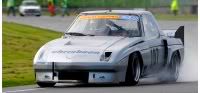 ---
CNHSS1