Moderators: scimjim, philhoward, erikscimitardemon, Roger Pennington, Lukeyboy46, nickkeyser
RSSOC Member
Posts: 13942
Joined: Tue Aug 22, 2006 5:13 pm
Location: Shrewsbury, Shropshire
Has thanked: 237 times
Been thanked: 218 times
Contact:
OK, quick resume of my weekend.
Saturday, my good friend and one-time on track major rival, Ben Gough (driver of Big Bob) came down for some last minute prep of the newly acquired ex-Stew Bramham Sabre Turbo twincam.
Few miles on back roads showed it a little skittish on cambered undulating surfaces (a la Hillclimb) so few educated guesses on damper rates and tyre pressures and we were ready for sunday.
First practice and a 67s run was rather pleasing
despite a rather deep entry into Triangle bend and lockup
2nd run, missed gear on launch (1st to 2nd) and a bit deep into Triangle again, missed gear 2nd to 3rd out of Triangle (have video from Claire of cannon-like bang and shoot of soot from exhaust!) then missed gear on exit of the Esses (2nd to 3rd) and had fuel surge out of Museum, so tad slower
At lunchtime, removed door numbers and popped to local garage and slapped 25 litres of V-Power Nitro+ in, wasn't gonna suffer surge again!
3rd run, engaged brain a bit more, 3rd gear again through Loggerheads, carried more speed, used more raod on exit of Fletchers Dellow neater into Triangle, still a bit deep, but trying to apex late and straighten exit. Missed 2nd to 3rd on exit of Esses again (actually hit 5th, back to 2nd, then 3rd
) but good run into Fallow and good neat run through Museum and into finish, with a reasonable 65s.
4th run, pretty much more of the same, missed gears even though id removed gaiter thinking it may have been restricting the lever movement, and bit of a ksip/hop over first bump before Fallow, upsetting car (and driver...) into the left hander resulting in 'arm and a half' of opposite lock out of fallow which lost time.
Conclusions
brilliant weekend!
great to catch up with me old mucker Ben, batting ideas and problems around with him
and good to be back in the saddle, although Ben suggested the car looked more Bucking Bronco than race horse at the moment
I have a list of things to check to get the handling where it needs to be, alignment, ride height checks, brake checks etc but should be better for Curborough
Steve C
apologies, never gave m/cyl another thought after borrowing rag
will drop you an email tonight to discuss mate
Racing is life, everything before and after, is just waiting--Steve McQueen
6 time Class Champ, 2006 & 2014 SSSC Champion
RIP Batmobile, await the Rise of Dark Knight 8)
Sabre 'Light Sabre' 360hp!!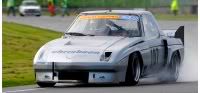 ---
CNHSS1