Moderators: scimjim, philhoward, Lukeyboy46, erikscimitardemon, Roger Pennington, nickkeyser
Posts: 14192
Joined: Tue Aug 22, 2006 5:13 pm
Location: Shrewsbury, Shropshire
Has thanked: 331 times
Been thanked: 265 times
Contact:
My soapbox re the sem trailing arm suspension design, stiffening springs doesnt manage the geometry under hard acceleration, coupled with a very short wheelbase and engine behind front axle line.
On yours and Steve Os th noses are lifting too, which allows th mass to pivot around the centre axis, forcing rear lower too. I run a little extra front damping to reduce lift off the line. It was easier on Batty with 2way adj dampers as you can leave the bump the same and just add rebound. Reducing the front lift has a beneficial effect on the rear dropping too.
Racing is life, everything before and after, is just waiting--Steve McQueen
6 time Class Champ, 2006 & 2014 SSSC Champion
RIP Batmobile, await the Rise of Dark Knight 8)
Sabre 'Light Sabre' 360hp!!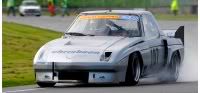 ---
CNHSS1