Moderators: scimjim, philhoward, erikscimitardemon, Roger Pennington, Lukeyboy46, nickkeyser
RSSOC Member
Posts: 13971
Joined: Tue Aug 22, 2006 5:13 pm
Location: Shrewsbury, Shropshire
Has thanked: 248 times
Been thanked: 223 times
Contact:
I reckon I should score approx 23-23.5 against Trevor on average across the season, Shelsley suits grunt and theres not enough corners for his superior corner speed to really pay off. I was lucky the hill suited the car and it was dry.

Yeah the 'just for fun' has faded into 'I dont like being uncompetitive!' so yes the suspension tweaks are working and hopefully with Dannys help will improve further. The main issue is rubber on the road, I need more at the rear but dont want to cut the bodywork up and make the car unsaleable once ive finished with it and its replace ments built.
Im hoping I can gt 225s under the rear and that will help, if not I think itll be at least 2, maybe 3 prs of rear tyres in a season!

The new car will share no suspension items with this car, will have to start again on that one witj the development
Racing is life, everything before and after, is just waiting--Steve McQueen
6 time Class Champ, 2006 & 2014 SSSC Champion
RIP Batmobile, await the Rise of Dark Knight 8)
Sabre 'Light Sabre' 360hp!!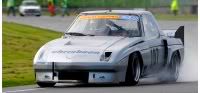 ---
CNHSS1