While the SS1's laid up over winter I've been working on replacing the original cast iron CVH exhaust manifold with a much modified stainless steel manifold that was originally intended for a Focus ST170. I fitted the CVH manifold to the zetec with an adaptor plate, it got the car up & running but I was never very happy with it, as the manifold is now cracked it seems like a good opportunity to try & get the new one sorted out.
As I say the new manifold is much modified: I've cut a chunk out of it (to make it shorter so that it didn't foul the nearside chassis rail), I then got the collector box & downpipe flange welded back onto it. Upon trial fitting it I found that it was the point of the triangular downpipe flange that now fouled the nearside chassis rail
!! It would have been simpler to cut the flange off & get it welded back on in a different position but the primary pipes ran pretty close to the alternator, & I've no idea where the dipstick would have gone, so I decided to cut the cylinder head mounting flange off, remove an inch or so out of the primaries & get the cylinder head flange welded back on. This is what I've done today & it's been an absolute pain - especially refitting the flange onto the shortened primaries - you'd have thought it would have been simple to fit but it took ages. It all needs tig welding but as I really don't want the flange getting knocked off/dislodged I've dug the welder out & tack welded it on. My welding skills are non-existant but even with bird poo tack welds it looks a heck of a lot better than the tatty original did. I've no idea if it'll improve the power - I hope so even if it's just a minor improvement!!
I now need to make a downpipe (I'm going to try & use some flexible exhust pipe) & make a flange to connect it to the manifold & then make it fit the rest of the exhaust system - I'm sure it'll be easy!! Once the manifold/downpipe etc are sorted I may treat the car to a bigger bore stainless steel exhaust from Tony Law, he's local to me & wants £300ish for a bigger bore stainless steel system (my choice of 1 or 2 silencers). I was pretty close to buying it this year but didn't want to use the naff old manifold with the new exhaust system. Despite being in the business of building bespoke exhaust systems/manifolds Tony Law weren't interested in making me a manifold - hence all the above mucking about with the ST170 manifold.
Looking forward to hearing what you think of it
Before: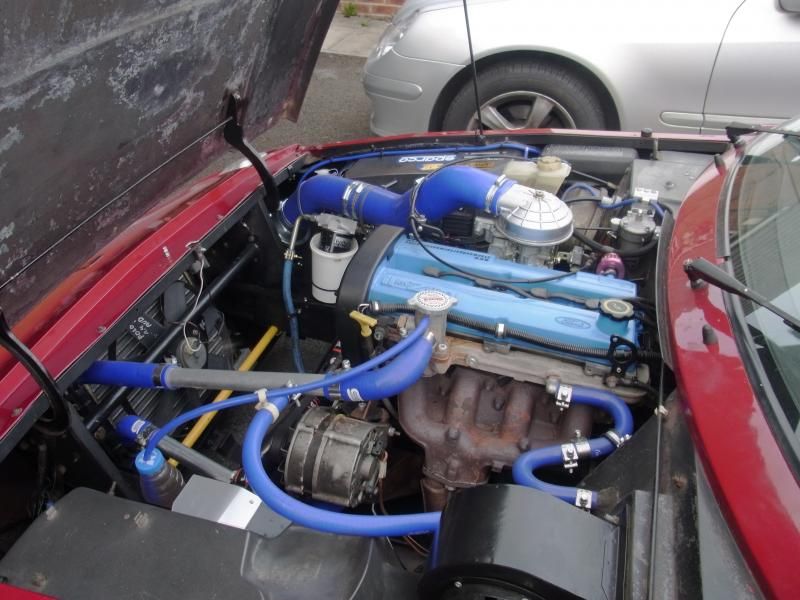 After: