Moderators: scimjim, philhoward, erikscimitardemon, Roger Pennington, Lukeyboy46
RSSOC Member
Posts: 24127
Joined: Tue Aug 29, 2006 5:41 pm
Location: Staffs, UK
Has thanked: 42 times
Been thanked: 534 times
Contact:
Well...
As mentioned elsewhere, I've been playing with seats again. The lack of a headrest has always bothered me a little and when SWMBO complains that the seats aren't comfortable, then I had to do something. I went browsing that well known auction site for something cheap, local, retro-looking and black and came away with a full set of Alfa 147 seats in immaculate black velour for £30. They're from a 5 door so no tilt mechanism for the fronts but if they meet approval, then I'll locate some 3 door ones in due course.
Then starts the question of how to mount them! In line with most moderns, they bolt to the floor in strange configurations but with a bit of lateral thinking, I found the easiest way was to emulate the original 5a fixing method of 2 bolts through tubular extensions of the seat frame.
Step 1 - unbolt the original runners and anything else in the way.
Step 2 - get the hacksaw on anything that was still in the way
Step 3 - Find that two pieces of 20mm electrical conduit (reasonable gauge galvanised steel - £8 for a 3.75m length) can be sandwiched between the frame and the bolt-on squab with the ends mating up with the original location points
Step 4 - Weld the tube onto the original frame wherever it touched to make sure it goes nowhere.
I'll let the pictures tell the story (the ty-wraps were only used for initial location):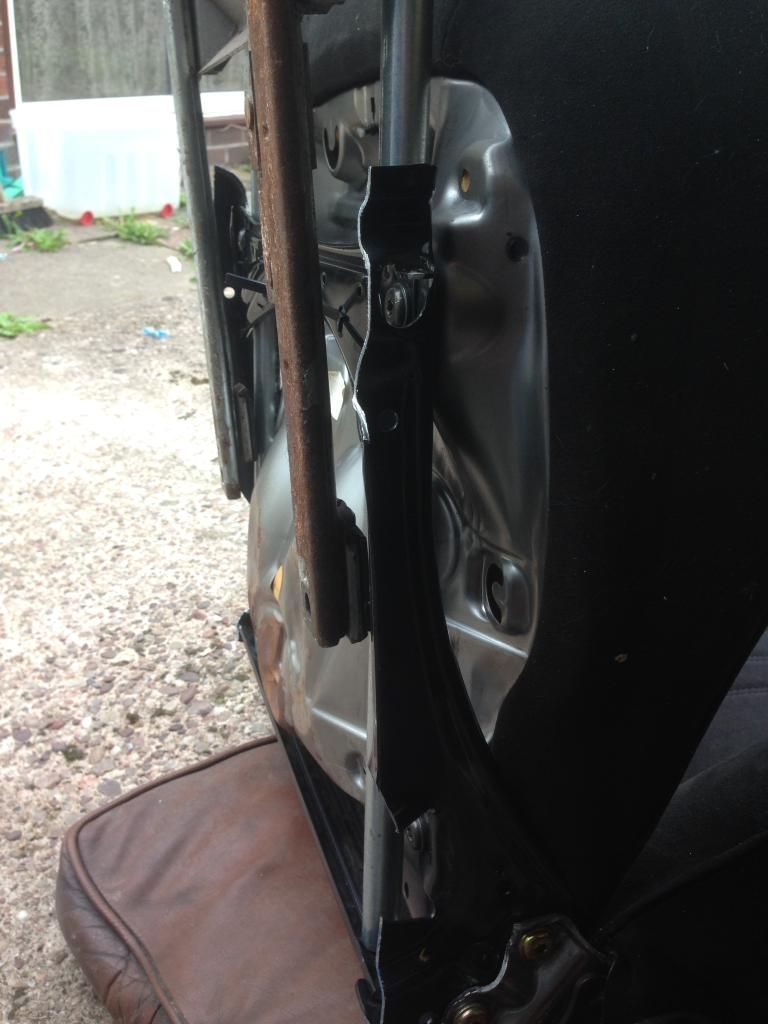 ..and welded in with a bit of black paint for good measure:
It was really handy that the strange contours of the seats provided a sort of channel for the tubing to fit - and whilst this clamped it very well indeed, I really did need to weld it in place just to be sure.
As for fitment, I'll post pics as soon as they're in the car. Test fitting just prior to welding shows they are a snug but good fit - no rubbing on either the door, B-pillar or centre console
Phil Howard
Scimitarweb Forum Admin
SS1 1600 Rooster Turbo; Sabre Mk1.5, Sabre Mk2
Previous: SE5/5a/SS1 No.1/SS1 Rooster/SS1 1800Ti/
SE5a 24 Valve
http://www.ss1turbo.com
Never try and argue with an idiot. They drag you down to their level, then beat you based on experience.
---
philhoward