Moderators: scimjim, Roger Pennington, Lukeyboy46, philhoward, erikscimitardemon
RSSOC Member
Posts: 14676
Joined: Tue Aug 22, 2006 5:13 pm
Location: Shrewsbury, Shropshire
Has thanked: 448 times
Been thanked: 391 times
Contact:
As you say, once its running properly all the hours of heartache will be forgotten. I remember well being at the workshop at work at 130am trying to get mine running for a 5am start to deepest Norfolk for a dyno mapping session. Was so tired i could barely stand, but the numbers on the dyno and hearingbthe car howling at 125mph and yet stationary
made it worthwhile.
As others have said, keep the faith DC, youve done more in 8 months than i did in 2+years on Batmobile.
Youll get there and it will be a winner
Racing is life, everything before and after, is just waiting--Steve McQueen
6 time Class Champ, 2006 & 2014 SSSC Champion
RIP Batmobile, await the Rise of Dark Knight 8)
Sabre 'Light Sabre' 360hp!!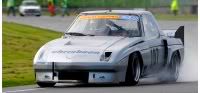 ---
CNHSS1