Moderators: scimjim, Lukeyboy46, erikscimitardemon, Roger Pennington, philhoward
RSSOC Member
Posts: 14123
Joined: Tue Aug 22, 2006 5:13 pm
Location: Shrewsbury, Shropshire
Has thanked: 306 times
Been thanked: 244 times
Contact:
Making same at 3.5k as old engine flat out!!
I reckon that power level and delivery will be devastatingly good Nick. Need some softer tyres now and Oakesy better watch out! What tyre size are you using currently?
Really am immensely impressed at the way you've gone about this build, sensible choice of components, and potentially lighter than a similar Nissan version, all topped off with the neat 'Team Keyser ' neat attention to detail
Racing is life, everything before and after, is just waiting--Steve McQueen
6 time Class Champ, 2006 & 2014 SSSC Champion
RIP Batmobile, await the Rise of Dark Knight 8)
Sabre 'Light Sabre' 360hp!!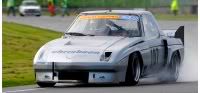 ---
CNHSS1