Moderators: scimjim, philhoward, erikscimitardemon, Roger Pennington, Lukeyboy46
RSSOC Member
Posts: 13887
Joined: Tue Aug 22, 2006 5:13 pm
Location: Shrewsbury, Shropshire
Has thanked: 227 times
Been thanked: 210 times
Contact:
Nope that'll all be up for sale soon. The charge cooler was awesome as an all rounder, rock steady air temps in any weather, traffic or track when its was a dual purpose road/race car but I'm looking to simplify tyebswtup and remove some weight so going back to intercooler. Bath towel soaked on water draped over it in the paddock to stop sunshine heating it should stop heating in the paddock hopefully, just have to remember to remove before a run!
Racing is life, everything before and after, is just waiting--Steve McQueen
6 time Class Champ, 2006 & 2014 SSSC Champion
RIP Batmobile, await the Rise of Dark Knight 8)
Sabre 'Light Sabre' 360hp!!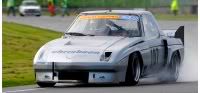 ---
CNHSS1