I have been a member of this forum for some time now and have stayed in the background mostly. I am currently rebuilding my SE4c Coupe, and think it is due time to start a progress report thread on this build which has now been in progress for over 3 years.
A bit of my background;
I live in Melbourne Australia and have had a hankering to own a Coupe since I read about them in British motoring magazines in the sixties as a youngster. These cars are very rare in this country, and it took till the eighties before I got to see one in the flesh, I remember being rather impressed in this car generally and vowed to own one day.
Over the years I have owned and restored a variety of cars, but the thought of owning a Coupe has never diminished. One day when trawling Ebay I was most surprised to come across a Coupe listed for sale in Adelaide (some 800 kilometers from me) and I wasted no time in contacting the owner for more information. This car was complete, running, registered, had recently been repainted and the outriggers replaced. It certainly looked good in the pictures so the decision was made to go and have a closer look. My young nephew and I caught a cheap flight to Adelaide, met up with the owner, and after a short inspection and drive I ended up buying this car and drove it home.
The long drive home was an adventure in itself, as no sooner I left Adelaide the engine started consuming water (blowing water from the right side tailpipe due to blown head gasket) and getting worse the further we travelled. Luckily we had a large water container with us and had to keep topping up the radiator every so often. Another problem encountered was the smell of exhaust fumes in the cabin, I could not stop the ingress of fumes whatever position the windows and sunroof where set at, and it was severe enough to cause headaches, coughing and bring tears to the eyes, but eventually managed to nursed it (and us) home successfully. Amazingly it returned 34 MPG of petrol and consumed 25 gallons of water on that trip home.
When safely in my workshop I made a thorough inspection of the car in general, and I was pleased to find that it was a very original example and was complete with all of it's original parts, showing no signs of previous damaged, and thankfully had no modifications carried out, so no extra holes or butchery anywhere. It had been painted once with the colour changed from Golden Sands to BMW red by the previous owner. On first glance the chassis looked fine and new outriggers had been recently fitted.
From the outset I had intended to dismantle the car completely and carry out a total refurbishment, including some upgrades, so this car I thought fitted my requirements perfectly.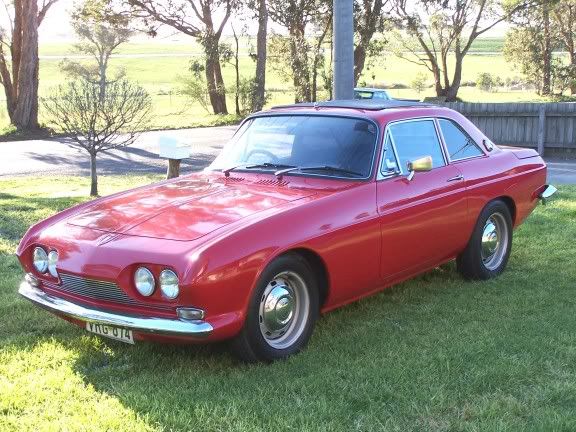 Unfortunately my joys started to diminish when I started prodding around the chassis a few days later as I started scraping dirt and paint away to prepare for body removal. It tuned out that the more I scrapped from the chassis, the more rust I found. I was horrified as to how much chassis rust was present and considered myself very fortunate that the car made the 800 kilometer journey home safely without any major incident. We do not experience rust to this degree in Australia (due to the warmer climate and the absence of salt on roads) so it was an unwelcome shock to see first hand the chronic rust issues encountered in other countries. This car had spent 30 years in the UK before being imported, hence the rust. I concluded that this chassis was beyond proper repair and it would be impossible to source another in this country. I had to put the project aside for some time while I decided its future, and contemplated listing the car back on Ebay and rid myself of any further thought of restoration.
After a while I reasoned that I still want to own a nice Coupe, and the chances of finding another in this country are very slim. As it has taken the best part of over 30 years to find one, I better keep this car and do whatever is necessary.
A new replacement chassis was needed; so it left me with no choice but to fabricate one. I studied the chassis and its construction carefully before dismantling the car, and took lots of measurements before deciding that a new chassis could be constructed using similar factory principals. Although the original chassis was very rusty, fortunately it was straight and original enough to use as a good pattern.
I carried on with lifting the body from the chassis, keeping the body complete as possible, the only components needed to remove from the body to accomplish this task were the bonnet, fuel tank and front and rear bumpers, all else remained intact. The body was lifted carefully using a custom made lifting fixture, block and tackle and gantry.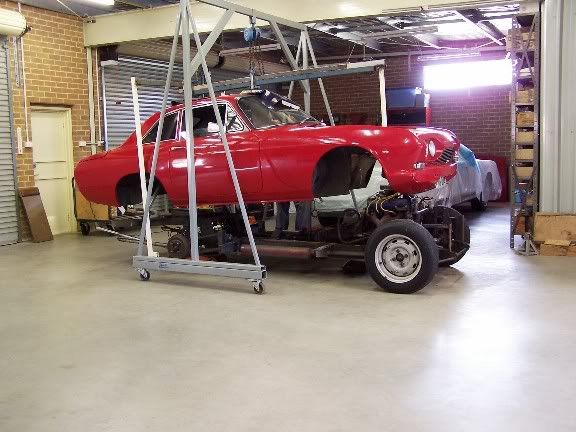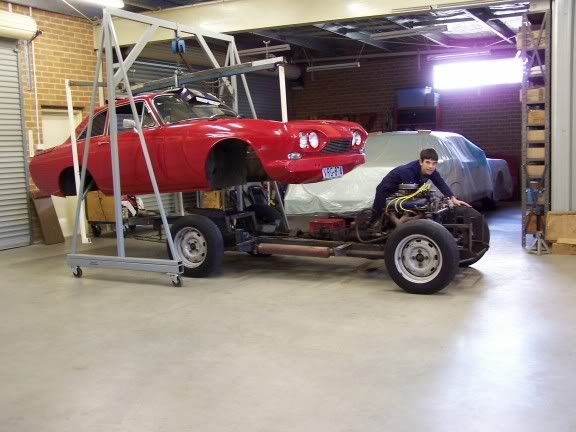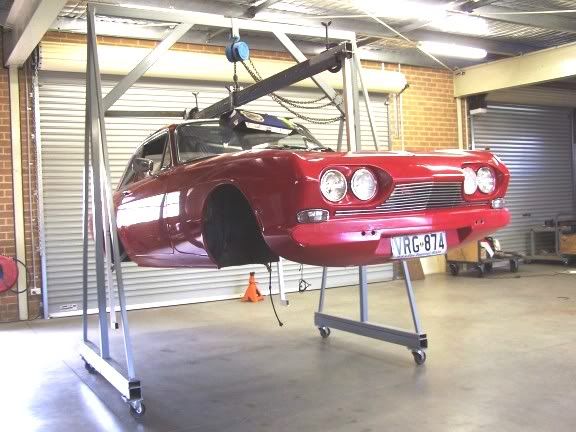 I then proceeded to make a stand for storing the complete body and some time later made a cart so it could be moved around as required. This cart is made so it supports the body exactly in the same areas supported by the chassis so hopefully the body will not distort over long storage period.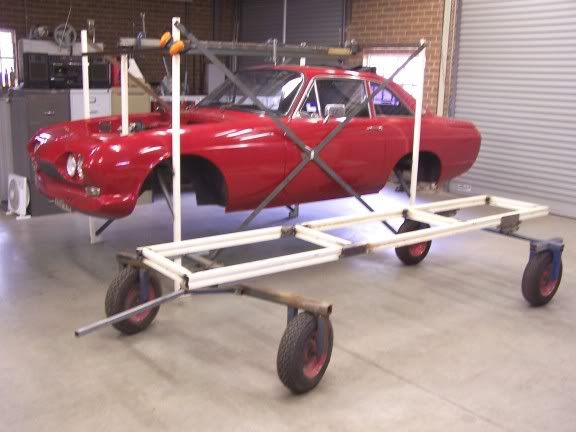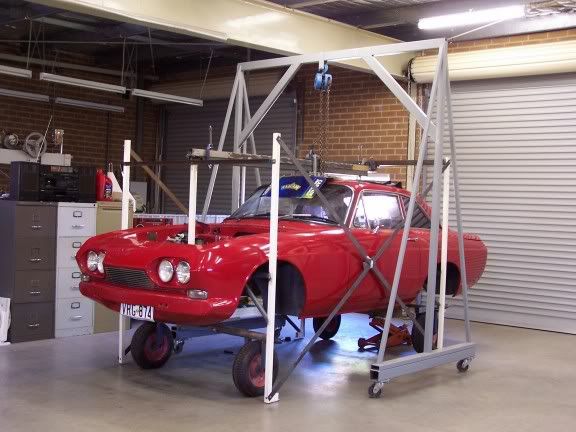 The body, interior and all else will be refurbished at a later stage when the new chassis is made. I then stripped the chassis bare and had it sandblasted in readiness for the next stage.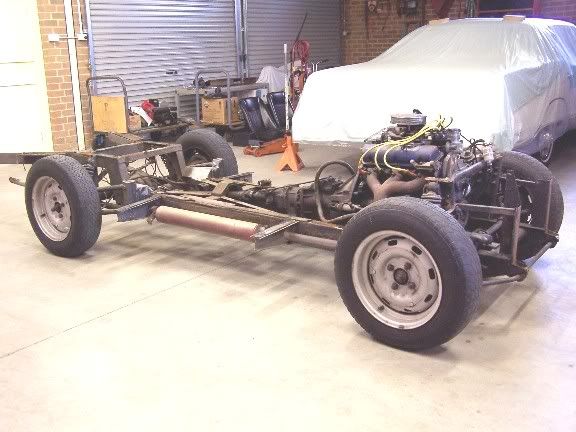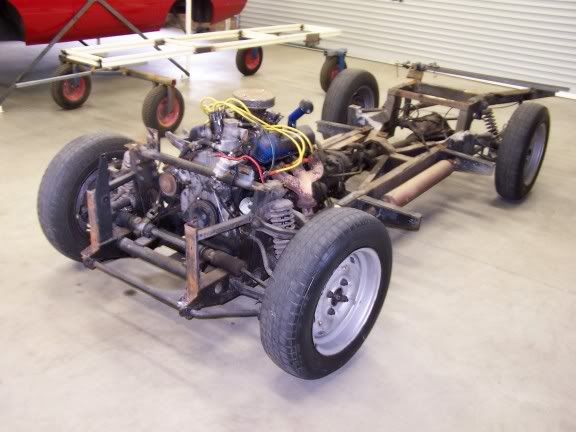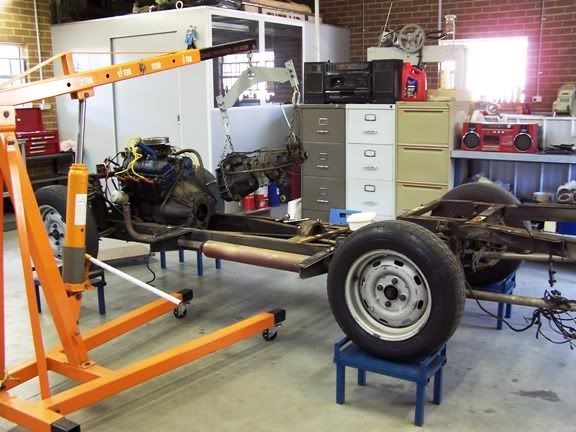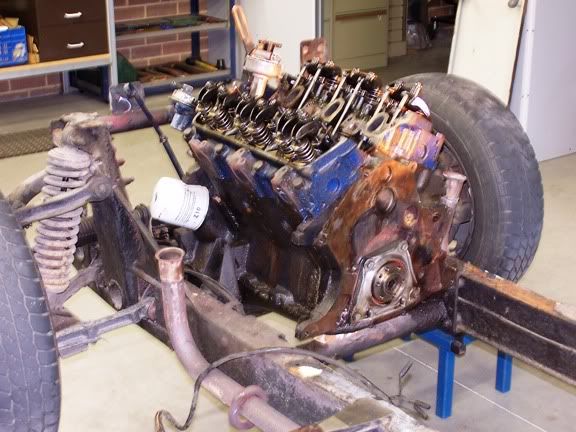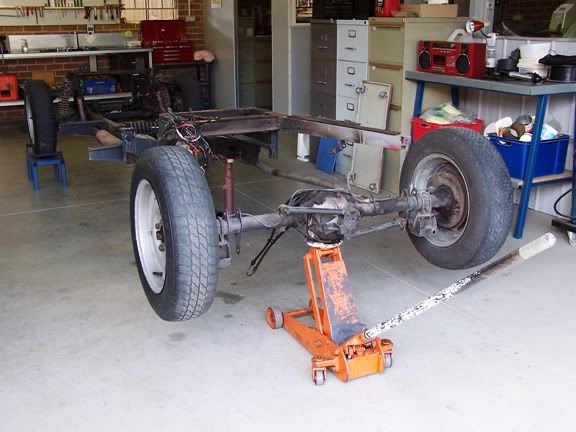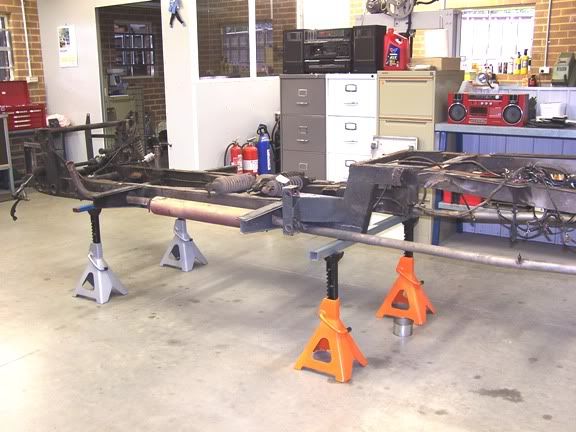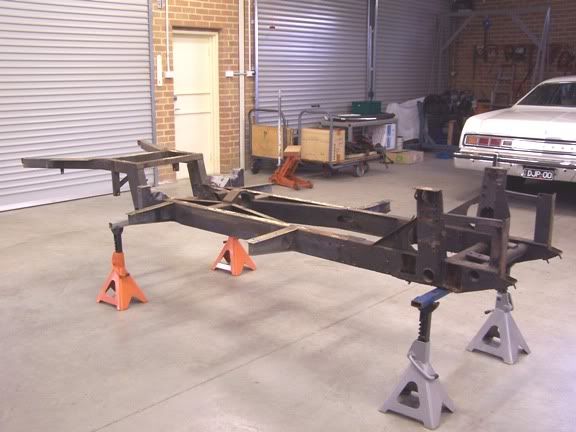 More to follow in time
Victor Pace