Moderators: scimjim, philhoward, erikscimitardemon, Roger Pennington, Lukeyboy46
RSSOC Member
Posts: 13976
Joined: Tue Aug 22, 2006 5:13 pm
Location: Shrewsbury, Shropshire
Has thanked: 249 times
Been thanked: 223 times
Contact:
Only 128hp???? That's cobblers!!! Went off the line like a missile!! Graph isn't right at all, power just drops off like there's a restriction, collapsing inlet pipe, running out of fuel (pressure) too small exhaust etc. I'd defo be looking at why it's like that. You have a non std turbo running 2-3psi more the stock and an intercooler, bespoke exhaust and getting less than std showroom power!!
I did notice when you have me a lift up the track to retrieve errant cones it sounded odd at idle, a little "off beat", could be timing out? Team Oakes DET ran much lower figure prior to harewood in 2016? Due to timing out 1 tooth
Needs investigating for sure. If it's fuelling related could have also lead to last head gasket issue (along with too much boost) be a shame to kill this engine too
Racing is life, everything before and after, is just waiting--Steve McQueen
6 time Class Champ, 2006 & 2014 SSSC Champion
RIP Batmobile, await the Rise of Dark Knight 8)
Sabre 'Light Sabre' 360hp!!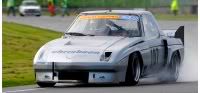 ---
CNHSS1