Moderators: scimjim, Lukeyboy46, Roger Pennington, philhoward, erikscimitardemon
Posts: 14385
Joined: Tue Aug 22, 2006 5:13 pm
Location: Shrewsbury, Shropshire
Has thanked: 370 times
Been thanked: 307 times
Contact:
Seeing the Mini reminded me, Paddy Hopkirk has taken over as President of the BRDC British racing drivers club from Derek Warwick. Good choice although at 84yrs old hope it doesn't finish him off!! When Damon Hill was President he said it was a huge task
Last edited by
CNHSS1
on Sat Oct 21, 2017 12:00 pm, edited 1 time in total.
Racing is life, everything before and after, is just waiting--Steve McQueen
6 time Class Champ, 2006 & 2014 SSSC Champion
RIP Batmobile, await the Rise of Dark Knight 8)
Sabre 'Light Sabre' 360hp!!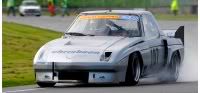 ---
CNHSS1